I'm going to start out this entry by admitting that for some reason, I'm having some serious writer's block. So, if this seems kind of lame, please forgive me. I've had a strong urge to blog ever since the new year hit, and for some reason, I just can't get up the gumption once I'm actually in front of the computer. I just can't get a good fix on what I want this blog to be now. For example, I just wanted to do a quick post today about how I was thinking of doing some tatting again and post a few pictures, but it's become this big mental thing to me. I want to hash out where I've been the past few months and what projects I've worked on and about all my confusion over what I want this blog to be, a pure craft journal, or more personal. I think all this is just reflective of how powerless I feel in my life right now, so by God, I'm going to micro manage the hell out of SOMETHING, even if it is just a blog.
Okay. Sorry about that little outburst.
So, I've been keeping up with the spinning and knitting, but lately my thoughts have been drawn back to tatting and bobbin lace. The urge got even more intense when I pulled out some of my tatting stuff to take pictures for the blog and saw how good some of my work was (and I'm humble, too :-D ). But I have several knitting and spinning projects in the works, so I'm not sure how much time I want to give to tatting, because the end product isn't as useful as my knitting/spinning. But it sure is pretty. Here are some pics of some of my past works! (There, that was relatively painless)
I won second place in the tatting category of the Ohio State Fair in 2002 with this doily (either that or third place in the all lace category; I can't remember which doily was in what category):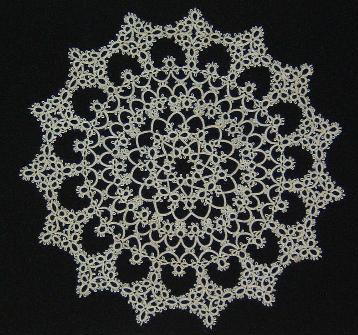 This is one of my biggest completed pieces. I'm very proud of it, especially the finishing job I did on it. There are fifteen of those little edge medallions that had at least two ends each to sew in, plus ends for all the other rounds. I thought I'd never finish sewing in ends, but I'm glad I did it right instead of just cutting off the ends.
Here is a picture of some small tatting I did with silk thread (some of it thinner than sewing thread) for a crazy quilt pillow that I have yet to start. Please forgive the ends hanging out willy-nilly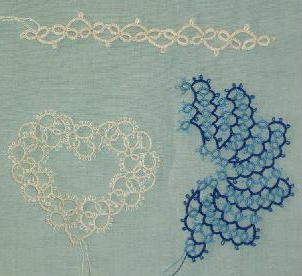 here is a close up of the heart, just because I think it's close-up worthy. This is some of my finest (tiniest, not best) tatting.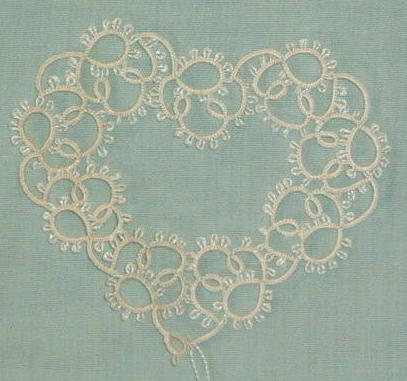 Now, a picture to prove that my interest in dyeing isn't just an interest in dyeing stuff to spin and/or knit: these bookmarks are made with some thread that I dyed. The one with the blue and green rings was tatted during my college graduation. We had the MOST boring speaker. I was so glad I brought my tatting to entertain myself. However, it raised quite a stir because I was sitting by a friend of mine who insisted to getting the attention of everyone around me during the speech to "see what Jenni can do." And to show you how boring our speaker was, most of the college-aged guys around me found my tatting much more interesting than our speaker. Yowza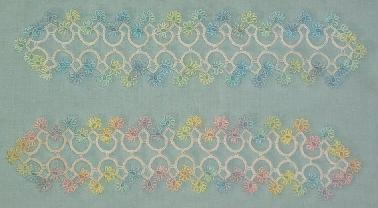 Here is some more color work. This is a snippet of an edging I was working on. I really like it, but early into it, I realized that I didn't have enough thread of the same dye lot to make the pillowcase edging I was planning, so I decided to save the thread for some bookmarks. It's awful pretty, though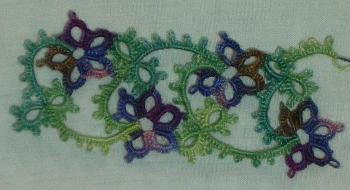 Here are two little motifs. The one on the right is my very favorite colored thread. It's called oliver twist and it's hand dyed by a woman in England. It has so many colors in it, it's an adventure to tat with. I always look forward to the color changes. The motif on the left was made to be attached to a Christmas ornament. It's my only experiment (so far) with beaded tatting. I like it the technique, but I'm not thrilled with this piece. Either the beads needed to be bigger or the thread thinner, but I just wasn't completely satisfied with the end look. But not bad for the first try.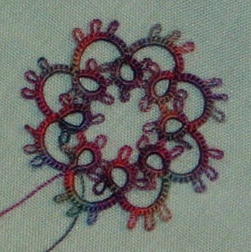 So, that's it for my tatting show and tell. Right now I'm tinkering with the idea of a framed display. Basically, I want to get a rectangular matte gold frame, with a white matte board and dark red backing. The white matte will have three diamond shaped openings, each with a round, white doily on the dark red backround. Each of the three doilies will be different, but similar enough to go well together. I'm combing through my pattern books for doily patterns, so we'll see if the idea pans out. Anyway, if you happen to stop by, I hope you enjoyed my somewhat akward re-entry into the blogging world. I missed it.